Judy Woodruff:
Over the past three months, President Trump has announced he was ending temporary protected status for hundreds of thousands of immigrants from Latin America and Haiti. The largest of those groups is from El Salvador.
Special correspondent Fred de Sam Lazaro begins a series of reports tonight with a look at what such a mass deportation would mean for that country and for the families that are caught in the middle, having spent so much time in the United States.
Fred de Sam Lazaro:
Every weekday morning, the Velasco children open their books at the dining table, their mother, Vanessa, leading the class.
Aside from two years in a nearby school to pick up English skills, the Velascos, devout evangelical Christians, have homeschooled their children.
Later in the day, they will be carpooling to gymnastics and soccer.
So you're living the American dream here in Brentwood, California?
Vanessa Velasco:
Yes, this is the American dream.
Fred de Sam Lazaro:
It's a dream that may soon end. Vanessa and Enrique came to this country from El Salvador 20 years ago on tourist visas, after an earthquake devastated their homeland in 2001. They were able to stay in the U.S. under a program called TPS, or temporary protected status.
First instituted in 1990, it has allowed foreign visitors from several countries to stay on if natural disasters or armed conflict would make it dangerous to return. Some 200,000 Salvadorans were routinely granted extensions, 18 months at a time, until the Trump administration's January decision to end their TPS status.
James Carafano, a Trump transition adviser now with the Heritage Foundation, supports the president's approach.
James Carafano:
It wasn't meant to be different form of permanent migration. It was meant to be a humanitarian gesture for people to come to the United States because they were in peril. And then when conditions in their country were acceptable, the notion is they would go back home.
Fred de Sam Lazaro:
For the Velascos, going back will mean leaving behind the oldest of their three children, who are all U.S. citizens; 17-year-old Ariana, a straight-A student, applied to U.C. Berkeley and fears she will rarely be able to see her parents when she attends college.
Ariana Velasco:
The first thought that comes to mind is being separated. They would have to go back to El Salvador. I would have to stay here. It's going to be a very difficult time.
Fred de Sam Lazaro:
Twelve-year-old Dayna worries about leaving the only home she's ever known, as she and 4-year-old brother Andres would have to accompany their parents.
Dayna Velasco:
We don't know how it's going to be over there and how are the conditions it is Salvador. It's like it's kind of dangerous to be there.
Fred de Sam Lazaro:
Indeed, Enrique Velasco, who has made a good living working construction jobs in California, says he worries about returning to an increasingly violent country.
Enrique Velasco:
My fear is that, a lot of cases, you take all your savings, all your money, and sometimes people can steal everything from you. It's not safe.
Fred de Sam Lazaro:
To discover what might await the Velascos, we made the 3,300-mile journey from San Francisco to El Salvador's capital, San Salvador.
Heavily armed police and soldiers seem everywhere, in response to an epidemic of gang violence over the past two decades, which has emptied entire neighborhoods whose families have fled in terror.
Oscar Chacon works with a group lobbying on behalf of TPS migrants.
Oscar Chacon:
Last year, El Salvador became again the most violent country as measured by homicide rates in Latin America.
Gang violence, insecurity is not related to the earthquake that allowed TPS to be granted back in 2001. But if you do a more dynamic interpretation of conditions in El Salvador, you will inevitably come to the conclusion that El Salvador is not a safe country.
Fred de Sam Lazaro:
Returnees would fall victim to gang violence and extortion, he says, and their expulsion from the U.S. will hurt El Salvador's already struggling economy.
The deportation of Salvadorans covered by temporary protected status will have a multibillion-dollar impact on the U.S. economy. Most people have jobs, the average household income in excess of $50,000 a year. But the impact on the Salvadoran economy will be orders of magnitude greater.
Dollars sent home to family here in El Salvador account for about one-fifth of El Salvador's GDP.
Back in California, one example is 45-year-old Yanira Arias, who we met at the Velasco home. She came to the U.S. 18 years ago, working first as a journalist, then a community organizer. Arias sends one-quarter of her monthly salary, about $700, to El Salvador to help support her elderly parents and extended family.
Your salary supports how many people in El Salvador today?
Yanira Arias:
It supports seven people. That includes the food, education, the bills, and if there's any additional needs such as health care.
Fred de Sam Lazaro:
Video calls are as close as Yanira Arias has come to seeing her family, who want her to remain in the U.S. When we met them in El Salvador, they asked us to conceal their identities, for fear of extortion by gangs.
Woman (through interpreter):
Yes, it's true that I miss her a lot. But she's responsible for our survival.
Woman (through interpreter):
There are thousands of people struggling to find a job here. It will be impossible for people coming from the U.S. to find jobs.
Hugo Castro:
I'm still not used to being here.
Fred de Sam Lazaro:
Hugo Castro knows the tough job market here in El Salvador firsthand. He lived in the United States for 30 years, first on a student visa, then worked in restaurants as a green card holder. In 2015, at age 50, he was deported for a minor drug charge, after serving a 30-day prison sentence.
Hugo Castro:
I had to start all over again. And it hasn't been easy, because El Salvador isn't an easy country, especially for people that are my age. You come in here, and work doesn't exist.
Fred de Sam Lazaro:
Castro now works for two nonprofit organizations that help resettle deportees, giving counseling and limited medical and legal aid.
But his advice to Salvadorans still in the U.S.- Don't come back.
Hugo Castro:
We are telling people to try to fix their immigration status. Go to pro-immigration organizations, like the Catholic Charities.
Fred de Sam Lazaro:
It will not be an easy path. The Trump administration's decision to end temporary protected status has strong support from conservatives in Congress.
The Heritage Foundation's Carafano says he's sympathetic to families like the Velascos, but-
James Carafano:
If the United States is going to maintain programs for humanitarian purposes and maintain the support of the American people, then those humanitarian programs have to be used as they're intended.
So, at some point, administrations may need to make tough choices that maybe they're not sending people back to the land of milk and honey, but we ought to comply with the intent and the purpose of the law and send those people home. The word temporary was there for a reason.
Vanessa Velasco:
After 20, 25 years, that is not temporary anymore. We made roots here. We have family. We raise families whose kids are USA citizens, whose kids are born here.
Fred de Sam Lazaro:
The Velasco family hopes to find a way they can legally remain in this country that they call home. One option the Velascos say they don't want to think about is staying on illegally by going underground once their temporary protected status expires in September 2019.
For the PBS NewsHour, I'm Fred de Sam Lazaro in Brentwood, California.
Judy Woodruff:
Fred's reporting is a partnership with the Under-Told Stories Project at University of St. Thomas in Minnesota.
The American Dream
what an end to temporary protected status means for families
For the Velasco family, life in California feels like an American dream. But having stayed in the U.S. under a program called Temporary Protected Status, it's a dream that may soon end. President Trump plans to halt TPS for hundreds of thousands of immigrants from Latin America and Haiti. Special correspondent Fred de Sam Lazaro reports on what's at stake for the Velascos and families like them.
What is TPS?
Instituted in 1990, TPS is a protected status applicable when conditions in a country temporarily prevent the country's nationals from returning safely, or in certain circumstances, where the country is unable to handle the return of its nationals adequately.
U.S. Citizenship and Immigration Services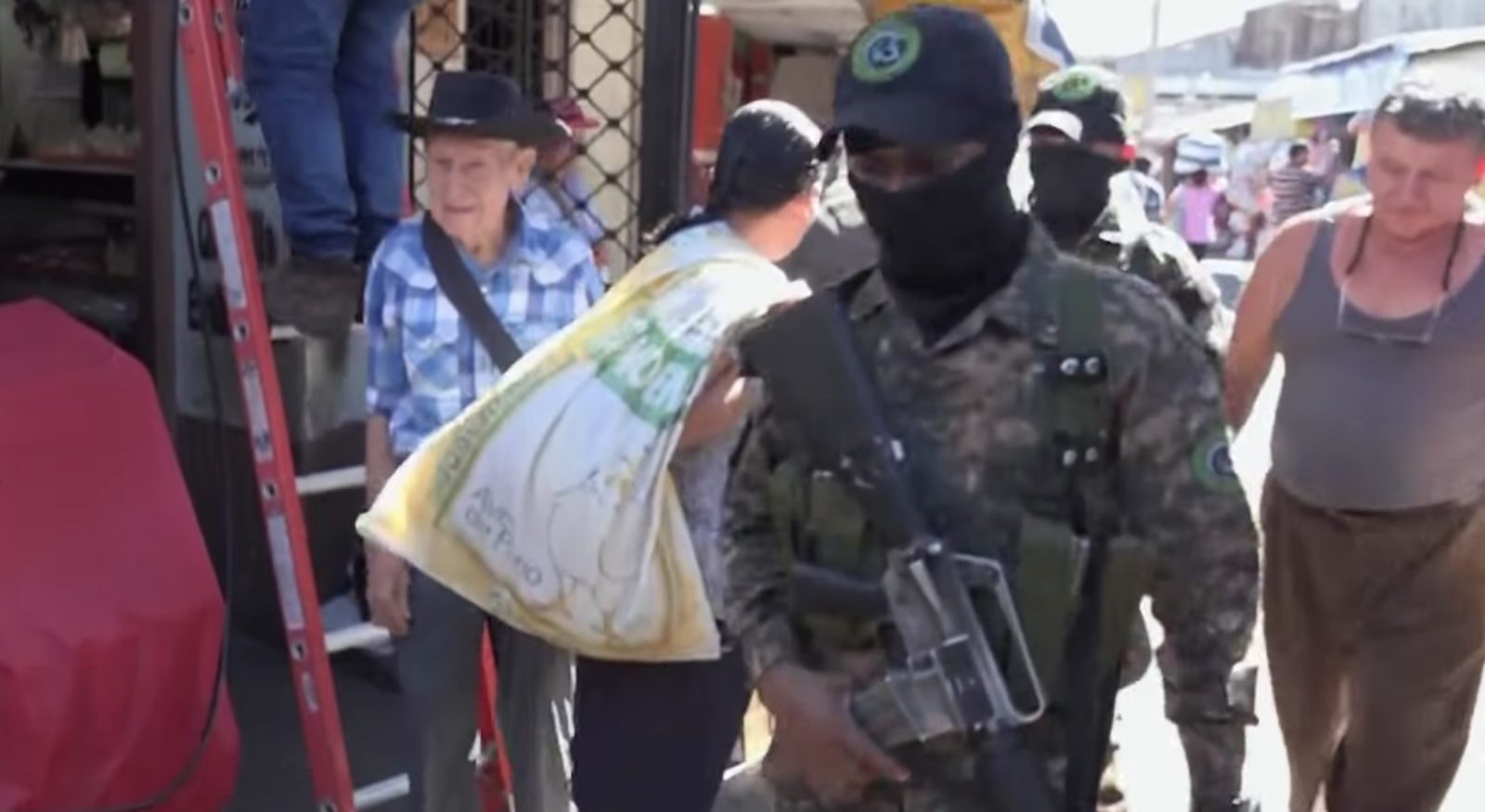 El Salvador
Even after a civil war and earthquake, high unemployment and one of the world's highest homicide rates make reintegration of thousands that may be deported a challenge.
Refuge for Salvadorans
earthquake, war, violence
These are the conditions that have allowed some 200,000 Salvadorans to find refuge under TPS in the U.S. and routinely receive extensions every 18 months. Attempts to end TPS for El Salvador have put their status in limbo, particularly for families that have had children born in the U.S.
---