JUDY WOODRUFF:Next to Nicaragua and a massive project to connect the hemispheres with another canal that's stirring up controversy.Special correspondent Fred de Sam Lazaro reports.
FRED DE SAM LAZARO:They came by the busload. They piled into cattle trucks. They came by horse and mule from miles around for a rally that likely tripled the population of the dusty little town of Los Chiles.At stake was Nicaragua's sovereignty, they chanted, sold to the Chinese. The object of their protest is a shipping canal to be built by a Chinese company. As described in this video dubbed from Chinese into Spanish for Nicaraguans, it would stretch 170 miles across the country to connect its Pacific coast to the Caribbean and thus the Atlantic.It's not a new idea. The Americans once considered it. This map from 1870 shows a proposed route for a shipping shortcut between the Earth's hemispheres. In the end, the U.S. Congress opted to build in Panama.Nicaragua's waterway will dwarf the Panama Canal, three times as long and twice as deep. Cost estimates range from $50 billion to $100 billion.
BILL WILD, HKND Group:It is by far the largest earth-moving project ever attempted in the world.
FRED DE SAM LAZARO:The project's chief engineer is Bill Wild, an Australian veteran of many big builds, but nothing approaching this one.
BILL WILD:There will be two large port facilities, one at either end of the project, hydroelectric schemes, and a number of other parts of the project. So, overall, it's an incredibly exciting and large and challenging engineering project.
FRED DE SAM LAZARO:Protesters have a very different view. They fear the canal will confiscate land and livelihoods here. A new law gives the project eminent domain over land and waterways anywhere in Nicaragua.Yader Sequeira farms this small plot of land with his grandfather.
YADER SEQUEIRA, Farmer (through interpreter):This is the place I was born, where I was raised. And I hope, with God's help, we won't have to leave, because we don't have anywhere else to go.
FRED DE SAM LAZARO:Protesters like Danilo Lorio say they have been harassed, or worse, at other rallies.
DANILO LORIO (through translator):We have been censored, threatened, not only our human rights and political rights violated. Also, many of us have been jailed and have legal hassles.
FRED DE SAM LAZARO:Human rights groups have also alleged violence and intimidation. And environmental groups have sounded the alarm. They say the canal would imperil wetlands, wildlife and, critically, Lake Nicaragua, the region's largest source of freshwater.Victor Campos is with the Humboldt Center.
VICTOR CAMPOS, Humboldt Center (through translator):The sedimentation that is going to result from it is going to change the chemistry of the water, which will have a major impact. You will have 500 million cubic meters of material extracted.
MAN (through translator):We cannot stay in the minority. We have to become a majority to fight Daniel Ortega every day with nonviolent means.
FRED DE SAM LAZARO:Although protests and opposition have grown in recent months, surveys still show a majority of Nicaraguans support the canal, which has been championed by the country's president, Daniel Ortega. He sees it as this country's ticket out of poverty.Nicaragua's six million people are about the poorest in the hemisphere. Only Haitians are worse off. And Telemaco Talavera, who heads the canal project for the government, says that will soon change, with tens of thousands of construction and permanent jobs.
TELEMACO TALAVERA, Nicaragua Canal Commission (through translator):It's going to generate direct and indirect employment and it's going to double the gross national product. It's also going to attract other kinds of foreign investments in agro industries, animal husbandry and artisanal products, all contributing to an integral concept of national development.
FRED DE SAM LAZARO:As for environmental issues, he insists the canal will actually slow global warming by allowing more efficient shipping. And locally, he says, remove poverty, and you remove much of the real threat, deforestation by poor people, mostly for cooking fuel.
TELEMACO TALAVERA (through translator):So the net environmental impact of this project will be an improvement.
FRED DE SAM LAZARO:Have you ever had to manage the water balance of a body of freshwater that large?
BILL WILD:Industry manages those sorts of things all the time. I have no doubt that you can manage the loss of water and quantify the loss of water through a lock system.
FRED DE SAM LAZARO:And the salinity?
BILL WILD:The salinity, there are a number of methodologies for managing salinity.
FRED DE SAM LAZARO:Proven?
BILL WILD:Proven, yes.
FRED DE SAM LAZARO:As for people being displaced, he says, the company will go beyond just relocating them to new land and homes.
BILL WILD:We are committed to providing equivalent or better livelihood for everyone we displace, and that's an absolute commitment.
ANDREAS SEQUEIRA, Farmer (through translator):I don't believe much of that, don't believe it.
FRED DE SAM LAZARO:Farmer Andreas Sequeira says he was displaced during the civil war in the '80s. The land he was given back was a fraction of what he had, he says.
ANDREAS SEQUEIRA (through translator):They confiscated our land before, and, later, they said they would give us our land back. But they never did.
FRED DE SAM LAZARO:Critics allege the deal, a no-bid contract, was rammed through a rubber-stamp parliament and courts by President Ortega, the one-time communist rebel, now firmly allied with big business, they allege.And critics note that foreign investors keep much of the profits for several decades, and the developers aren't liable for environmental damages or even if the canal is never built, which some say is likely.Professor Maria Lopez Vigil calls the whole thing a ploy to create real estate speculation.
MARIA LOPEZ VIGIL, Central American University (through translator):There has not been one study on feasibility in terms of environment, financing, actual profits. They are going to expropriate thousands of properties from campesinos under the banner of tourism.
BILL WILD:Chairman Wang has put together a very strong team. I mean, we have McKinsey doing the feasibility, the technical feasibility studies. And ERM is doing the environmental assessment, the ESHA.
FRED DE SAM LAZARO:Bill Wild insists these studies by reputable global consultants have shown the canal is feasible, though his company has yet to fully disclose the details of its environmental reports.And despite a groundbreaking ceremony shown last December on Nicaraguan TV, in which Chairman Wang Jing appeared alongside the president's son, Wang has not revealed where he will get the private capital needed to build the canal. He has said it will be built by 2019.There may or may not be a deficit in funding, but few argue there is one of trust.I'm Fred de Sam Lazaro for the PBS NewsHour in Los Chiles, Nicaragua.
JUDY WOODRUFF:Fred's reporting is a partnership with the Under-Told Stories Project at Saint Mary's University of Minnesota.
Bigger than Panama's
In Nicaragua, a massive project to connect the hemispheres with another canal is stirring up controversy.
CLASSROOM RESOURCES
The proposed canal would cut through Lake Nicaragua
An opportunity
Nicaragua's six million people are about the poorest in the hemisphere. Only Haitians are worse off.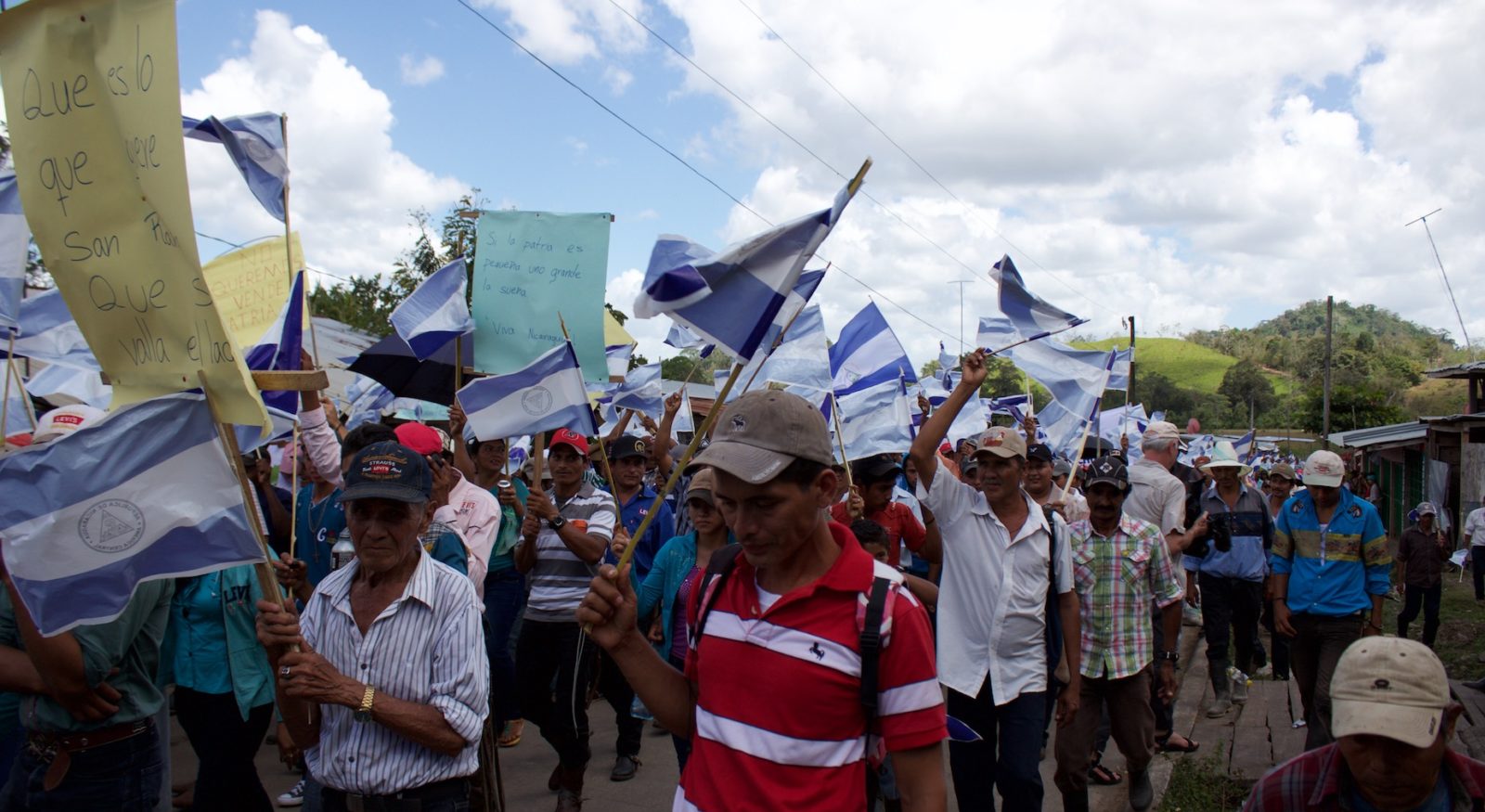 Protesters fear the canal will confiscate land and livelihoods here.
A new law gives the project eminent domain over land and waterways anywhere in Nicaragua.
As of 2021, the canal has not been built.
---